Certifications
PEFC and FSC® certifications stand for a sustainable and environmentally correct use of the world's wooded areas. PEFC is the abbreviation for "Programme for the Endorsement of Forest Certification Schemes", and FSC® for "Forest Stewardship Council®". These non-profit worldwide active organisations have been striving for years for the commercialisation of ecological and socially correctly produced wood. Otto Vertrieb GmbH & Co. KG is PEFC as well as FSC® certified since 2013 and must undergo regular and rigorous audits to check each and every aspect of its business. Certified products sold by us have one major thing in common: the guarantee that the wood can be traced throughout the entire Chain of Custody, from the wood's origin right up to the completion of the product. In this way, we can comprehensively document and oversee the flow of materials as and when needed. A certified product by Otto-Vertrieb consequently stands for sustainable forestry and protection of nature!
If you have questions regarding any of the certified products offered by Otto-Vertrieb, feel free to contact us!
Environmantal Certifications of Otto-Vertrieb: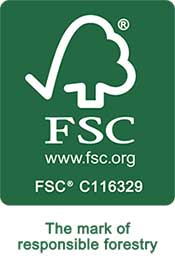 --------------------------------------------------------------------------------------------------
EFRE - Benefits
The building that hosts our corporate offices features an innovative fuel-cell system model BlueGEN, which allows us to produce electricity and heat directly on site, thereby ensuring the highest level of efficiency. The system is kept in operation all year round and it can produce, with an electrical power of 1.5 kW, approximately 13,000 kWh of electricity per year. Such a high level of electrical efficiency helps reduce pollutant emissions by more than 50% compared to drawing power from the mains. For more information, visit the website www.efre.nrw.de.